<!- mfunc search_box_body ->
<!- /mfunc search_box_body ->
<!- mfunc feat_school ->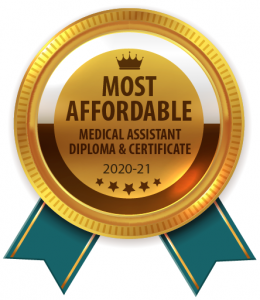 Getting into the healthcare industry as a medical assistant provides one of the fastest paths available into the kind of fun and rewarding career you deserve, and a profession that is going to be in demand for decades to come. Not only does healthcare make up nearly 18 percent of the total U.S. GDP, it accounts for an astounding 12% of total employment nationwide. And the unprecedented boom in the US healthcare industry that we're currently seeing is just the beginning of things to come.
In fact, we're expecting 6.6% compounded annual growth through 2024 – that's more than a 26% expansion in just the next few years!
These are staggering numbers for a single industry, especially one that's only going to grow in the years ahead.
Even with industry-wide job growth and expansion setting a blistering pace, the medical assisting profession is leading the pack with the number of jobs expected to grow by 23% in the ten-year period leading up to 2028.
With a certificate or diploma paving the way, you can meet all the qualifications for standard industry certifications and be off and running in your new job in less than a year… and by going with one of the programs on this list, you can do it all without ending up buried under a pile of debt.
Advantages of Diploma or Certificate Programs in Medical Assisting Over an Associate Degree
Although there are associate's-level college degrees that qualify you for industry standard certifications, they involve at least two years of study and cost an arm and a leg. If every bit of those two years was spent learning the ins and outs of what it takes to be a skilled medical assistant, then it would be time well spent and represent a good value. But the truth is, much of that time is actually spent taking the general education courses required to graduate – courses that have nothing to do with your job as a medical assistant. That's both time and money that you don't actually need to spend to meet all the qualifications employers are looking for.
Diploma and certificate programs provide a solution. Both options take less time to complete than a full degree, and for a lot less money – often half the time and a third the cost.
Medical Assistant Certificate vs Diploma Programs
There is no standard, universally agreed upon definition for diploma or certificate – often, diploma programs involve additional courses and are a little longer than certificate programs, but not always… sometimes certificate programs offer credits that can be transferred to an associate degree at the same school, but not always… so the different labels don't necessarily mean a categorically different kind of program.
Usually you will find that any given school either offers certificates or diplomas, and usually not both. In a practical sense for students looking at their options, it could be said that the difference is largely in name alone and that it really has to do with how different schools decide to label and market their programs. But even this doesn't tell the whole story since certain state university systems do have their own internal definitions that regional employers are familiar with.
For these reasons we decided to categorize these program types separately, and perform our comparative pricing analysis strictly within each category – so we only compared certificate programs to other certificate programs and diploma programs to other diploma programs.
If you're looking to break a tie between a certificate and diploma program in your area, rather than trying to find a difference in the definition, it's a better idea to simply compare the costs, credits, and outcomes of the two options.
At the end of the day, both programs are designed for the same type of aspiring student and serve the same purpose: to provide entry-level medical assistants with a cost-effective alternative to a two-year degree.
---
---
Qualifying for Medical Assistant Credentials Through a Diploma or Certificate Program
As professionals who work directly with patients to provide some basic hands-on services while also performing vital administrative tasks that medical offices rely on for everything from patient scheduling to accurate billing, any doctor's office, hospital or clinic looking to hire is going to place a lot of value on the qualifications their medical assistants hold.
Individual employers set their own hiring requirements, but they tend to align fairly consistently with basic industry standards when it comes to the accreditation status of your training program and the professional certification you hold. This means no matter where you plan to work or where you might live in the country, you're going to find employers have very similar expectations.
<!- mfunc search_btn -> <!- /mfunc search_btn ->
When it comes to the professional credentials you hold, virtually every employer from coast to coast is going to recognize the two most widely held medical assistant certifications in the industry:
This is the point where confusion sometimes sets in a bit – certificate… certification? You wouldn't be the first person scratching your head at this point.
The difference is clear and a lot more straightforward than you might think – certification and a certificate are two completely different things that simply share similar names.
A certificate is what you're given when you complete a private school or community college certificate training program. Certification is a professional credential you can earn by passing a knowledge and skills based exam, but you'll need to complete a qualifying training program first.
Earning either the CMA or RMA certification is totally optional. However, even though there is no legal requirement to earn certification, it is something that more and more employers require. That's because it's still one of the best indicators of a medical assistant's level of knowledge and know-how, their level of commitment to the profession, and it also vouches for the quality of the education they received.
In fact, to take the CMA exam you need to attend a school with one of the two specialty accreditations we'll discuss below. Though the RMA doesn't require your program to have this type of accreditation, if you attend an accredited program you exceed the minimum requirements and you're a shoe-in.
The Importance of Accreditation in Medical Assistant Diploma and Certificate Programs
Just like employers see professional certification as a strong indicator of the quality of a job candidate, we consider specialty accreditation the best indicator of quality in a medical assistant training program.
That's why in our pricing analysis we only looked at programs that hold specialty accreditation from one of the two accreditation agencies in the U.S. that give their stamp of approval to medical assistant training programs:
That means there might be cheaper programs out there, but this list is about quality and value, so what you'll find here are only the least expensive fully-accredited programs available in the U.S.
Holding one of these accreditations says a lot about a program and the school it's offered through. Earning that accreditation involves a rigorous analysis and evaluation of the program, reviewing things like:
School resources and facilities available to students
How curriculum is developed and how it reflects current practices in medicine
General standards for administration and admissions
Faculty selection and evaluation processes
As if that weren't enough, the agencies also send out on-site evaluators to double-check and make recommendations to schools to ensure they are delivering an education that aligns with industry expectations employers have for medical assistants. And they make periodic re-evaluations to keep those standards up-to-date.
How We Selected the Most Affordable Medical Assistant Diploma and Certificate Programs
Our process for selecting the most affordable accredited diploma and certificate programs for medical assistants was simple: we looked at the published total program tuition rates for every accredited school in each state, and included only those that fell below the state average for the same kind of programs.
Because public and private schools have different cost considerations and funding sources, we evaluated public schools only against other public schools in each state and privates schools only against other private schools.
For states that had only one qualifying school in a category, we included it by default only if the cost was comparable to regional standards. We've noted schools that landed their spot on this list by default; and for those that had to beat out other schools we show you how much lower the cost is as compared to the state average.
It's also important to note that we looked only at baseline tuition rates, and did not attempt to include any associated costs such as lab fees, books, or administrative fees, which can vary considerably. We found this to be the best way to perform a like to like comparison.
Although cost was our sole criteria, you will find that we have listed many other factors that will help you in deciding which program is right for you, including things like:
Job placement assistance and post-program employment rates
Flexible scheduling and curriculum delivery options
Multi-language support
Exceptional community partnerships for externship or internship placements
Certification exam pass rates
You can't go wrong with any of the schools on this list. No matter which one you choose, you can be sure it has the respect that comes with being fully accredited and a tuition rate that places it for the least expensive in the nation.
---
40 Most Affordable Medical Assistant Certificate Programs
Alabama / Alaska / Arizona / Arkansas / California / Connecticut / Florida / Hawaii / Idaho / Illinois / Indiana / Iowa / Kansas / Maryland / Massachusetts / Michigan / Mississippi / Missouri / Montana / Nebraska / Nevada / New Hampshire / New Jersey / New Mexico / New York / North Carolina / Ohio / Oklahoma / Oregon / South Carolina / Texas / Utah / Washington

---
40 Most Affordable Medical Assistant Diploma Programs for 2023
Arizona / California / Florida / Georgia / Illinois / Iowa / Kentucky / Louisiana / Massachusetts / Minnesota / Missouri / Nebraska / Nevada / New York / North Carolina / Ohio / Oklahoma / Oregon / Pennsylvania / South Carolina / South Dakota / Tennessee / Utah / Wisconsin