<!- mfunc search_box_body ->
<!- /mfunc search_box_body ->
<!- mfunc feat_school ->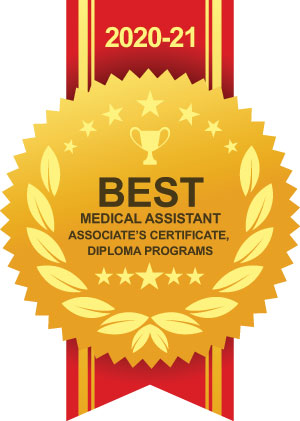 The American healthcare industry has been going on a hiring spree over the past couple of decades, and it's not going to end anytime soon. Just recently, the number of workers in the healthcare system became the largest single share of employees in any industry in the country, beating out both manufacturing and retail jobs by a significant margin.
We all know why healthcare is the biggest growth industry, and why that's going to remain the case for many years to come. America is aging rapidly, requiring more healthcare services, and medical treatments are becoming more and more sophisticated and reliant on technology, requiring a highly trained and educated workforce. That workforce needs some serious back-up from support staff that are just as capable in their own right.
That makes medical assistants a vital part of the bigger picture in modern healthcare, which has put the profession in a sweet spot for growth that's slated to see a 23% increase in the number of jobs opening up over the next decade.
According to the Foundation for Economic Education, the number of administrative personnel hired to healthcare providers in the past three decades is far higher than the number of doctors, nurse practitioners and other high level providers that have entered the field in those years. For every primary and acute care provider in the U.S., there is a team of medical assistants backing them up, serving in vital support roles in the exam rooms, behind the front desks, or in the back-offices of clinics and practices across the country.
The very fact that medical assistants serve in both administrative and clinical capacities, makes them a good investment for providers that require staff capable of handling a blood draw or updating patient records as the situation requires.
It's an important job that provides a lot of value to both patients and providers, so it deserves skilled professionals who have the confidence and capability that comes with outstanding training. If you're serious about a career in healthcare, you owe it to yourself to get the best associate's degree, diploma or certificate in medical assisting available, and that's exactly what you'll find here.
Associate's Degree, Diploma, or Certificate – Understanding Your Options for Medical Assistant Training
Associate's degrees offer the type of career preparation people are most familiar with. They are a regular college degree offered at community colleges and private vocational training schools, requiring two years of study, and in many cases, credits that can be transferred into a four-year college if you choose to move on to a bachelor's degree at some point. They are rigorous and comprehensive, offering both general courses in math, science and humanities, along with medical assistant specialty courses and clinical training. But they are also more expensive and take longer to earn than the alternatives.
Those alternatives are labeled as certificate and diploma programs. There is no official distinction between the two outside the institutions that offer them. You'll find that both are substantially less expensive than a full associate's degree, and also much quicker to complete. They offer a fast track to qualifying for certification, but at the expense of general education and credits that aren't usually transferrable if you want to continue your education. The exception to this is for certificate programs offered at schools that allow you to transfer to an associate's degree offered at that same school.
---
---
The choice will be yours: a quick, inexpensive path to becoming an assistant, but with some limitations when it comes to setting yourself up for a more advanced education later on, or a more expensive but in-depth degree that will take more than twice as long to get you on the job and earning a paycheck.
<!- mfunc search_btn -> <!- /mfunc search_btn ->
All of them offer the training you need to earn the certification employers look for, so they are considered equal in that regard. The decision comes down to personal preference, future plans for advancement, and how you want to present yourself in the job market.
The Minimum Standards to Be in the Running for Our Top Picks List
Every pick on this top list of programs has achieved that status, as awarded by one off two different CHEA-recognized specialty accreditors for Medical Assistant programs in the United States:
That status is absolutely required for fulfilling the educational requirements of the CMA credential, and it is also accepted for the RMA.
What it means is that all of these programs have been rigorously evaluated by professional assessors who are completely up-to-date on the latest healthcare industry requirements and practices. Through exhaustive evaluation of paperwork and records, as well as in-depth on-site visits to see the same facilities and classrooms where you will be taught, they are able to determine the fitness of each program to deliver the high standards necessary for medical work.
Their evaluation includes program aspects such as:
Curriculum development and documentation
Instructor hiring and evaluation standards
Compliance with truth-in-advertising requirements
Admissions standards and processes
Administrative support
Laboratory standards and school resources available
Grading and graduation procedures
In the end, specialty accreditation validates the academic quality of each of the schools we've chosen, and qualifies them to qualify you for medical assistant certification.
Although there is no official licensing program for medical assistants, most healthcare roles that deal with patient care still have quite stringent employer requirements for hiring. For medical assistants, that means earning one of two different available certifications in the field:
Certified Medical Assistant (CMA) – Offered through the American Association of Medical Assistants, the credential requires you to complete a CAAHEP- or ABHES-accredited associate, diploma or certificate program.
Registered Medical Assistant (RMA) – Offered through the American Medical Technologists, the credential requires you to complete an associate, diploma or certificate program from a school with general, institution-level accreditation. Any CAAHEP- or ABHES-accredited program easily clears this bar to meet the requirements for the RMA certification exam.
How We Selected the Best Medical Assistant Programs for 2022
Although the technical requirements for earning your certification as a medical assistant are met simply by the combination of passing an accredited program and the exam administered by the certification agency, that doesn't guarantee you the job you want. The secret is out that hiring is ramping up in the field, and you're facing stiff competition for the best and highest-paying positions.
The best path to those jobs is by attending a top-ranked program. Whether it's an associate's degree, a certificate, or a diploma, getting the right education from a school that employers recognize for providing the skills they need their staff to have will land your resume at the top of the stack.
The factors that go into the programs we've selected are simple, but tough to meet. They include:
High-caliber Instructors with Lots of Experience
Probably the biggest influence on what you learn is in who you learn it from. We pick programs that have only first-rate instructors: individuals who have accumulated years of experience in the field, and brought that real-world knowledge back to share with students. They've worked in actual practices and hospitals, had hands-on experience in patient care. They also need the kind of teaching acumen and interpersonal skills that allow them to share what they know and forge genuine relationships with their students.
Only the top schools attract this kind of instructor, and the credentials of the faculty are one of the first things we consider when building this kind of list. We don't just look at their scholastic background and achievements, we also look for things that tell the story of their experience and commitment to excellence in the field, which might include earning awards and professional accolades or holding prestigious positions, both on the job and with professional organizations that advocate for medical assistants.
Track Record for Strong Student Outcomes
The proof is in the student outcomes when it comes to medical assistant training. Since almost all graduates go on to take a certification exam, we look at the success rate for each school. If those rates are high, you know that the program is delivering the right instruction, in the right way, to prepare you for what the industry is expecting.
That preparation can extend to the school's counseling, mentoring, and other student support services. We look for schools that do more than just get you through to graduation and leave you to find a job on your own. Instead, those that offer continuing access to resources for academic excellence and superior support systems are the most likely to make our list. Mentoring services, paper-writing assistance, and career counseling are all important factors in our school selections.
Job Readiness and High Employment Rates Among Graduates
Support services at the top schools don't stop after graduation, either. We picked schools with strong track records in job placement for graduates, and those that have career centers and networking services to get you into the positions you deserve. A good career center can do far more than help you create a form resume; instead, dedicated professionals can help you evaluate all your career options and tailor your applications, your interviewing skills, and assist you with the sort of professional networking required to get your name to the top of the list.
All of this is reflected in high graduate satisfaction rates. The best schools have the happiest graduates, and we look closely at the evaluations that students deliver after graduation to determine which schools are getting high marks. You will never learn more about a program than you can from someone who has actually been through it, so we gave significant weight to student evaluations when selecting schools we felt deserved a spot on our list.
Editor's Picks for the Best Medical Assistant Diploma Programs
Editor's Picks for the Best Medical Assistant Certificate Programs
Editor's Picks for the Best Medical Assistant Associate Degree Programs
Pennsylvania