<!- mfunc search_box_body ->
<!- /mfunc search_box_body ->
<!- mfunc feat_school ->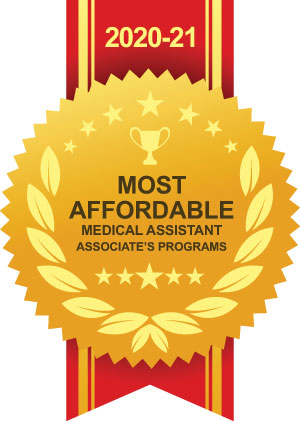 If you are looking to fast-track your way into the $3.65 trillion (and still growing!) healthcare industry, you don't have to look any further than the first rung on the ladder in many clinics and hospitals: becoming a medical assistant is one of the quickest routes to a career that offers a big return on a relatively small investment of time and money.
Medical assistants fill vital roles in that system, handling everything from basic blood pressure checks to blood draws to answering phones and filing medical records. And if you've made the decision to get into the field with an associate's degree under your belt, you will be among an elite class of the most well-qualified medical assistants, and command a paycheck to match.
In a field where you can take a pretty minimalist approach to training with a one-year or shorter program if that's your thing, a two-year associate's puts you in a different league. And the demand for MAs with this level of skill and training is high – and rising.
In an era of healthcare that's largely defined by better informed patients, highly technical treatment options, and limited access to physicians in many parts of the country, more duties and expectations are falling to medical assistants. This new reality has made associate-educated medical assistants trained to the highest standards in the field absolutely indispensable to modern medical practices.
An associate's degree is not the cheapest way into the profession, but it's definitely the best. This list will help make finding the most affordable options available throughout the country a little easier for anyone ambitious enough to go this route.
Why Choose an Associate's Degree Over a Medical Assistant Diploma or Certificate?
Diplomas and certificates can often be earned in a matter of months, usually less than a year, and often at a fraction of the cost of a full associate's degree.
Before you start thinking we're trying to talk you out of an associate's, consider what you're getting in exchange for all that extra time and money…
Although it's a longer and more expensive path to becoming a medical assistant, earning an associate's degree is clearly the better option. With a full associate's degree to your name, you'll have a much more comprehensive education… something employers notice when selecting from a pool of job candidates – even between two individuals who both have the same certification.
The benefits don't end with being better trained, better qualified and more likely to land a job that a lot of other people are competing for. Associate's degree holders are also often rewarded with premium pay, out-earning medical assistants that took the shorter route into the Profession.
You'll also have a degree you can build on. Associate's degrees can commonly be used as transfer degrees, filling in the first two years of a four-year bachelor's degree program. That makes your path to an even higher paying and more advanced position in the healthcare industry faster and less expensive if that's a route you choose to go down later on.
The Basics: What You Need to Look for in a Medical Assistant Associate's Degree Program
Specialty Accreditation
Every degree on this list has received a specialty accreditation from one of the two different two agencies in the U.S. responsible for evaluating medical assistant programs:
In fact, we feel so strongly that this level of accreditation is vital to ensuring MA students get the most from their education, we only reviewed CAAHEP- and ABHES-accredited programs when conducting our pricing analysis. If a program wasn't accredited, it wasn't even in the running.
Both agencies are recognized by CHEA (the Council for Higher Education Accreditation) and the U.S. Department of Education as specialty accreditors, holding both the expertise and the industry ties to allow them to accurately and comprehensively assess the quality of medical assistant curriculum, training facilities, instructors and community connections for the purpose of internships and other field placements.
To do that, they take a deep dive into every aspect of a college medical assistant program, including elements like:
Curriculum design, coverage, and structure
Admissions requirements and application processes
Faculty hiring and evaluation standards
Grading and administrative processes
Program management and funding
Lab and other resources available to students
Using their understanding of current demands in the industry, CAAHEP and ABHES evaluate programs through a combination of on-site visits and document reviews. Periodic reassessments are made to ensure that schools keep up the high standards the healthcare industry expects of new medical assistant graduates.
Exam-Based National Certification
Although there is no legal requirement for medical assistants to earn exam-based certification, almost all employers these days are only interested in staffing-up with certified MAs.
The two most widely recognized exam-based certification options offered in the field today are:
Certified Medical Assistant (CMA) – Offered by the American Association of Medical Assistants to candidates who hold a degree, diploma, or certificate program accredited by CAAHEP or ABHES, and then go on to pass the CMA exam.
Registered Medical Assistant (RMA) – Awarded by the American Medical Technologists, to candidates who have graduated from a degree, diploma or certificate program housed at a school that holds basic institutional accreditation. (CAAHEP or ABHES accreditation exceeds this basic accreditation.)
We only feature programs here that qualify you for either a CMA or RMA certification.
Since holding one of those two certifications is essentially a must these days based on the expectations of most employers, selecting a program that will meet their educational requirements for eligibility is also a must.
Finding the Most Affordable Medical Assistant Associate Degree Programs
Value is where quality meets affordability. With specialty accreditation, programs cleared the first bar. The next one was equally straightforward: keeping the costs down. In the end, we only show you accredited programs with total tuition costs lower than the state average for similar programs.
A cost comparison between similar programs means we only evaluated public schools against other public schools, and private schools against other private schools. Public schools offer deep discounts to state residents that private schools can't compete with in most cases. On the other hand, for both out-of-state and international students, private institutions often offer the better deal. To give you a full picture of all the options available to you, we included the least expensive from both categories, even in instances where the least expensive private school option was a lot more than the in-state rate for the public schools.
<!- mfunc search_btn -> <!- /mfunc search_btn ->
When only one accredited school of a particular category existed in a state, we often included it as the default option, but only when the cost was in-line with other similar low-cost options in the region.
All our cost comparisons are based on published tuition rates only and don't include fees or other expenses like books or other course materials. With different fee structures and itemizations from school to school, we found that assessing the base tuition rate provided the best measure for comparing costs. We were careful to make sure that no schools with high fees (resulting in a higher overall cost) landed on this list based on having a low tuition rate alone. You can be sure that every school shown here represents the least expensive option in a given state.
Although full specialty accreditation and total cost were our only criteria for programs that made the list, we know that you can't make a decision about where you're going to spend your education dollars – and the next two years of your life – without some other important details. Although cost and quality are both important, everyone has individual preferences and goals, so we also cover other elements that can make a program special or better aligned with the kind of education experience different students look for:
Graduation and job placement rates, where available
Career counseling and job placement assistance offered
Secondary qualifications that come along with the degree, including other certifications you may be eligible to test for
Flexible scheduling options
Community partnerships with healthcare providers for internship or externship experiences
Special features like outstanding facilities, resources, or support
The Most Affordable Accredited Medical Assistant Associate Degree Programs for 2023
There are a lot of options out there for earning your medical assistant associate's degree, but when you narrow it down to only accredited programs with tuition rates below the state average, you end up with a small and highly elite group of schools. Every single one of them is shown here, all offered at a price you can afford and with the quality that you deserve.